Main content:
ATR 72
The regional aircraft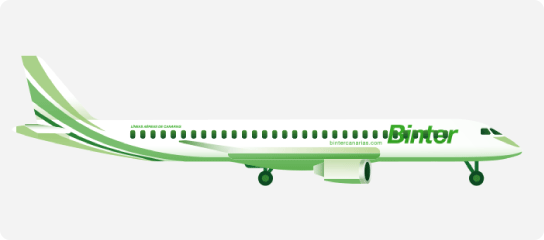 EMBRAER
The largest and most modern aircraft
The current fleet of our company is made up of 24 ATR 72 and 5 Embraer 195-E2.
The ATR 72 turboprop equipped aircraft is regarded as the go-to model for short-haul flights due to its short take-off and landing capabilities. With improved fuel efficiency and reduced CO2 emissions, the ATR 72 stands out as a low-polluting eco-friendly airplane. The brand new ATR 72 600 model uses the latest assisted-navigation technology and offers the highest standards of comfort. It features five cockpit LCD digital displays for better control and in-flight safety, slimmer seat design to maximise passenger space and larger baggage compartments.
Binter has announced the acquisition of five more new Embraer 195-E2 aircraft, thus becoming the first European company to operate this model. It is the largest and most modern aircraft in the E-Jet E2 family of twin-engine medium-range commercial jets, and its interior is a benchmark in the aeronautical industry thanks to its 2+2 seating configuration and its overhead compartment, which doubles the capacity of regional jets. The E-Jets E2 are the quietest, cleanest and most efficient single-aisle jets in the world and the Canary Islands company has ordered them with a special configuration of 132 seats in a single class with a comfortable space of 79 cm between them.